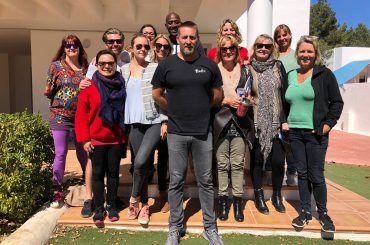 We help organisations prioritising mental health wellbeing cultivate an open and positive workplace.
For organisations who are concerned about their employee welfare and wellbeing, or simply wish to strengthen their wellness strategy, our mental health first aid courses provide the onsite training you need to up-skill your staff so that they can support colleagues and those in their care effectively.
Are you a nursery, school or college?  Do you work with children or young people?  Read what those in the education sector have said about our mental health first aid training sessions.
Let's talk about your organisation's MHFA training needs
Please complete the details below and we'll get in touch to discuss onsite training
I consent to my submitted data being collected. Your data is stored so that our team can communicate and provide you with assistance.  You can view our privacy policy here.*
Mental health first aid courses onsite at your premises
We deliver accredited mental health first aid (MHFA) courses onsite at your premises or venue of choice, wherever you are in the world.  Beforehand, we like to get to know your organisation and understand the working culture.  In doing so, we can better tailor sessions to your environment. 
Our Trainer's expertly guide learners through the MHFA syllabus.  We unlock skills and competences.  Learners become more mindful of the stigma attached to mental health and the challenges of this within their workplace and society.  They will become confident in identifying and helping a colleague in need.  They'll be a valuable asset contributing to the health and wellbeing of the organisation.
Following successful completion of the course, learners will be awarded an Ofqual-regulated qualification with a certificate issued.
The cost of wellbeing in the workplace
According to the Centre for Mental Health 2017 figures, mental ill health cost UK employers a staggering £34.9 billion.
Broken down, employers are effected by reduced productivity, sickness absence and staff turnover.  Stress, anxiety and depression are the common conditions and cause of sickness absence in the workplace. 
This supports the notion that the cost of neglecting mental health wellbeing is detrimental to employees and the business itself.
By creating an environment that promotes openness and channels for employees to share their feelings and seek help, this will have a positive impact on individuals wellbeing and the health of the organisation.
What is mental health first aid?
Mental health first aid (MHFA) is offering initial support to a person developing a mental health problem, experiencing a crisis or worsening of an existing mental health condition.
MHFA training gives learners the skills to identify symptoms of mental health issues.  Learners are taught how to approach and offer initial help, and guide the person towards the appropriate support they need.
Our MHFA courses help people become good listeners who can reassure and respond accordingly, and put an action plan in place where necessary.  The courses are not designed to make or qualify you as a therapist.  Just like traditional first aid, the aim is to give people the confidence and know-how to offer support until professional help is received.
Three available courses
We have three available MHFA courses ranging from Level 1 to 3 Awards on the RQF (Regulated Qualifications Framework). 
Level 1 Award Awareness of First Aid for Mental Health (4 Hours/ 1⁄2 Day)
The Level 1 Award Awareness of First Aid for Mental Health is a half-day course. Its purpose is to provide learners with the knowledge to identify suspected mental health conditions. Moreover, learners will gain the skills to start a conversation and be able to signpost the person towards professional help.
Level 2 Award First Aid for Mental Health (6 Hours/ 1 Day)
The Level 2 Award First Aid for Mental Health is a one-day course. It covers the content of the Level 1 course. However it expands on the effects of drugs and alcohol and incorporates the First Aid for Mental Health Action Plan. Furthermore this session covers ways in which a positive mental health culture can be supported within a workplace.
Level 3 Award Supervising First Aid for Mental Health (12 Hours/ 2 Days)
The level 3 Award Supervising First Aid for Mental Health is a two-day course. This qualification goes into detail on a wide range of mental health conditions. Furthermore, it covers the support and help provided by healthcare professionals. This mental health first aid course covers the content of both the Level 1 and Level 2 qualifications. It is ideal for those in HR and people/ talent management, through to supervisory, pastoral, head of department or senior management roles within the workplace.
Let's talk about your organisation's MHFA training needs
Please complete the details below and we'll get in touch to discuss onsite training
I consent to my submitted data being collected. Your data is stored so that our team can communicate and provide you with assistance.  You can view our privacy policy here.*