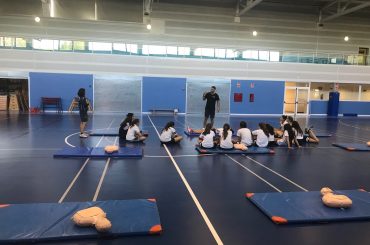 European Restart a Heart Day
Today is European Restart a Heart Day. This is an initiative founded by the European Resuscitation Council with the European parliament's support.
About Restart a Heart Day
Taking place every year on the 16th October, the goal of the campaign is to create awareness that everyone can learn CPR. Furthermore, the aim is to push Basic Life Saving Skills in schools and public locations.
CPR Skills for Students in Madrid
In recognition of Restart a Heart Day, two weeks ago we delivered a basic CPR skills session to groups of year 8 and 9 students at a school in Madrid. Over 200 children were split into groups of 20 – 30. The students were taught how to deal with an unresponsive, non-breathing casualty and how to perform CPR. Additionally, instruction on communicating with the emergency services, basic hygiene, staying safe and the recovery position.
Enthusiasm and Skill
The students showed enthusiasm and skill when they practiced on the resuscitation dolls. They asked us many questions and were keen to learn about first aid. On the whole, the day was a great success. We are proud that 200 plus children gained a very important life skill.
The European Resuscitation Council's Steps to CPR
1. CALL
Make sure it is safe to approach:
Check for any response from the victim
Tilt the head back, lift the chin and check breathing
If breathing is absent or not normal, CPR is needed
Call the emergency services e.g. 999/ 112 and follow their instructions
If someone is there to help, ask them to call the emergency services for you, and fetch an AED if possible
2. PUMP
Place both hands in the centre of the chest
Compress the chest to the rhythm of "Stayin' Alive"
If you learned how to do it, provide 2 rescue breaths between every 30 compressions, otherwise pump the chest continuously
Push hard. Don't worry, you can't do any harm
3. SHOCK
If an AED arrives, switch it on immediately and follow the instructions
4. SMILE
Once the emergency services arrive, continue until you are told to stop
Smile! Your hands could restart a heart and save a life
Doing something is ALWAYS better than doing nothing
Well done!