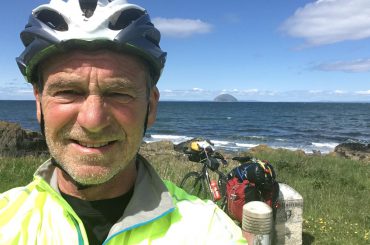 Mental and physical strength
Mental and physical strength, our Senior Instructor Dave Stretton has it in abundance.
Dave aka Stretts pushed himself right to the limit physically and mentally during his recent challenge. We're not talking the annual Ironman competition which in itself is incredibly gruelling.
13 days on the road
Stretts spent 13 days on the road…..cycling. He completed an astonishing 1000 mile journey touring the UK and Ireland. Faced with testing conditions i.e. rubbish weather and carrying 15kg of kit; he battled on solo and was just short of his target which was to reach Cardiff.

80 miles left to go
With 80 miles left to go, Stretts called time on his adventure. There were many moments when he felt like abandoning the trip but he pushed through the pain and exhaustion. However, upon reaching his limit he knew when it was time to stop. The risk of injury or illness was too high being so mentally and physically drained.

Mental and physical health go hand-in-hand
Mental and physical health go hand-in-hand, we shout about this a lot and it should become our motto. Stretts' adventure is testament to this. His mental state was affected by his physical and vice-versa. He knew what he had achieved was amazing. But he also realised that he had to do something to protect both his mental and physical wellness i.e. stop and feel proud of what he had accomplished.
It's a great example to follow. Perhaps not so much the 1000 mile cycle! More like taking action to protect ourselves from further mental or physical ill health. Whether that's self-help or seeking help; it's better to do something than nothing at all. That's another of our motto's!
Congratulations, Dave aka Stretts
We'd like to say a huge congratulations, Dave aka Stretts.  Every year he pushes himself and does something that wows us.  The next challenge will be completing that 80 miles to Cardiff.  We're thinking the boss Chris Simmons could join Stretts and show his mental and physical strength?  Contact us on Facebook and let us know if you think Chris should accept this challenge.