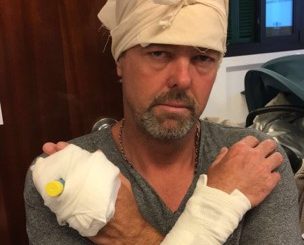 First Aid Training Courses in the Community
Lately we have been delivering first aid training courses in the community. The two main courses have been the Level 3 Award Emergency Paediatric First Aid and Level 3 Award Emergency First Aid at Work.
All walks of life
We have met all walks of life during the sessions. From parents, expectant first-time mums and dads, grandparents and childminders, to yacht-workers, cyclists and bar staff. All have learned valuable life-long skills and feel more confident in being able to deal with a casualty in need of first aid.
Meet Marko!
The image you can see is of our newly qualified Emergency Paediatric First Aider, Marko. The spirited Dutchman attended a session with his partner and their baby son. We welcome all on our community courses, no matter how young, as we know it can be challenging to arrange childcare.
Marko was a great sport on the day. Although he doesn't appear happy in the photo, he revelled in being bandaged up demonstrating his 'injured casualty' acting skills!
First aid training courses in the community
It's been a real pleasure teaching within the community. We would like to say a big thank you to all who have participated. We'd also like to thank the venue hosts who have been very accommodating and supportive throughout.
View our Facebook page, Instagram and Twitter to see all the action.