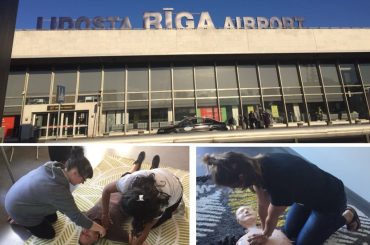 New Academic Year – Training Schools Tour Begins
The new academic year for 2017/2018 is fast approaching and so our training schools tour begins. This is the time when many of our nursery, school and college clients draft us in to deliver first aid training for their staff.
Our training for schools kick-started this week in Riga, Latvia. Staff from an international school participated in the Level 3 Award Emergency Paediatric First Aid course.
This one-day course is very popular within the education sector. The syllabus covers administering first aid to adult casualties as well as child casualties. This qualification is approved by Ofsted and the Early Years Foundation Stage (EYFS). It's ideal for the staff that can't be released for two days to complete the Level 3 Award Paediatric First Aid course. Effective from the 3rd April 2017, the latest EYFS Framework states that these qualifications are a necessity for EYFS providers. It is vital to have suitably qualified staff on the school premises and present on outings.
Where to next?
We wrote a post a few weeks ago about us traveling to various countries. Our next stop on the training schools tour is Alicante. This is followed by Madrid, Doha, Istanbul, Mallorca and London. We're looking forward to teaching, sharing our experiences and knowledge in Paediatric First Aid Training.